Lightswing® Twin
Product information
Description

Make your pendant light flexible with the Lightswing® Twin, the hanging system for two pendant lights.

Hanging system for one or two pendant lights
Effortlessly slide, rotate and temporarily remove two pendant lights
Available in 3 colors; matt black, matt white, and stainless steel
Choice of 2 length sizes; 90 cm and 110 cm
Unique Dutch Design
The Lightswing® Twin makes interiors incredibly stylish in a subtle way. The Lightswing® hanging system is also available in a version for one pendant light, the Lightswing® Single.

Please note: The Lightswing® Twin 90 cm is suitable for two pendant lights up to 3.5 kg each. Pendant lights are not included with the Lightswing®. You can choose suitable pendant lights for the Lightswing® yourself.

Order before 4:00 PM? The Lightswing® will be shipped the same working day. Shipping costs and delivery time depend on country of destination.

Curious about the installation? Check out the online manual with handy instructional videos for installing the hanging system. You can also download the PDF manual.
Specifications

| | |
| --- | --- |
| Turn range | |
| Sliding range | |
| Max. carrying weight | |
| Material | |
| Diameter base plate | |
| Weight Lightswing® | |
| Suitable for a wall dimmer | |
| Suitable for an LED driver or transformer | |
| Suitable for damp areas | |
| Includes pendant light and light source | |
What our customers say
about the Lightswing®
Product benefits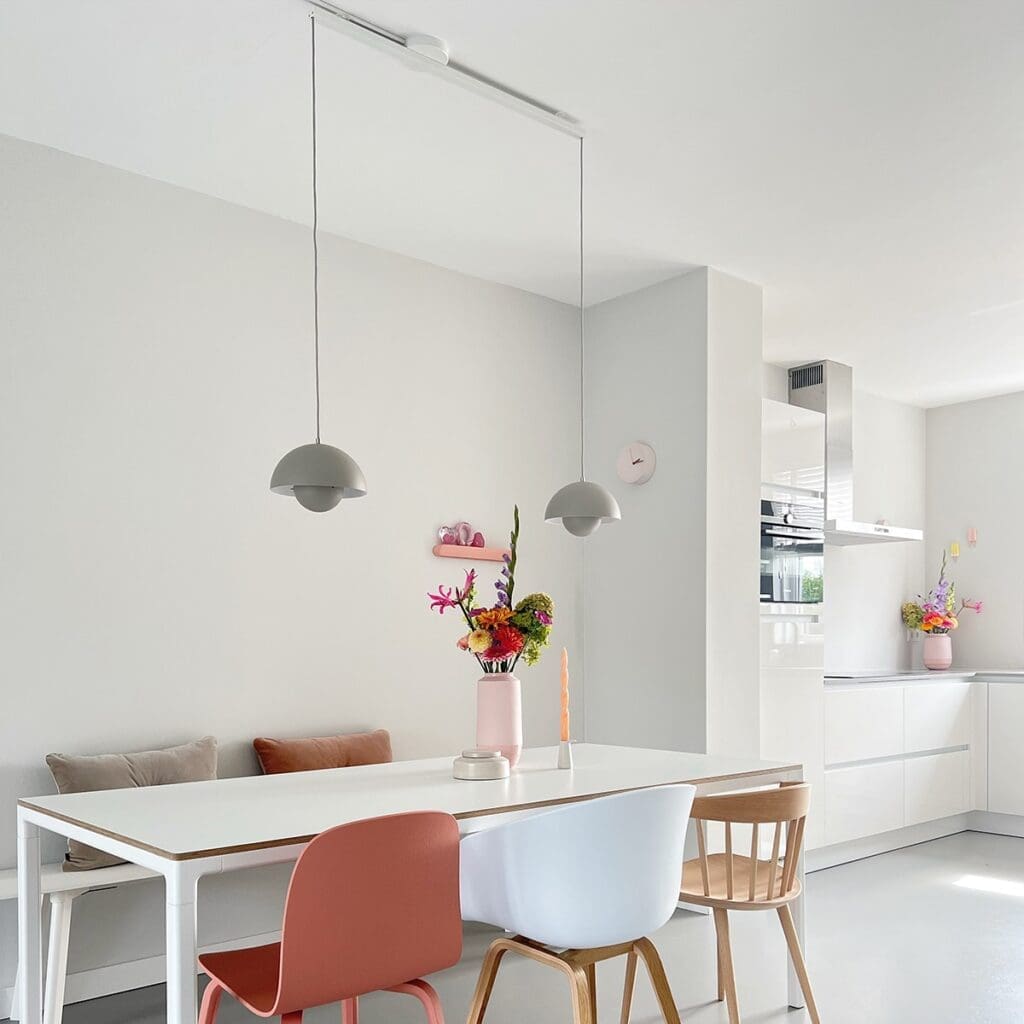 The last time your pendant is hanging wrong
The Lightswing® is attached to the ceiling, often over the existing light fixture. Once the system is in place, you can turn and slide the Lightswing® to the spot where you want the pendant to hang.
Turn, slide, and switch your pendant without tools
Do you want to change the position of your table and your pendant light? No problem! The Lightswing® has a sliding range of up to 93 cm and 360° rotation. Want to switch pendant lights? Thanks to the quick release system, that's also not a problem.
Suitable for two pendant lights up to 3.5 kg
The Lightswing® Twin is designed for two pendants. The 90cm version can carry up to 3.5 kg per pendant and the 110cm version can carry up to 2.5kg per pendant.